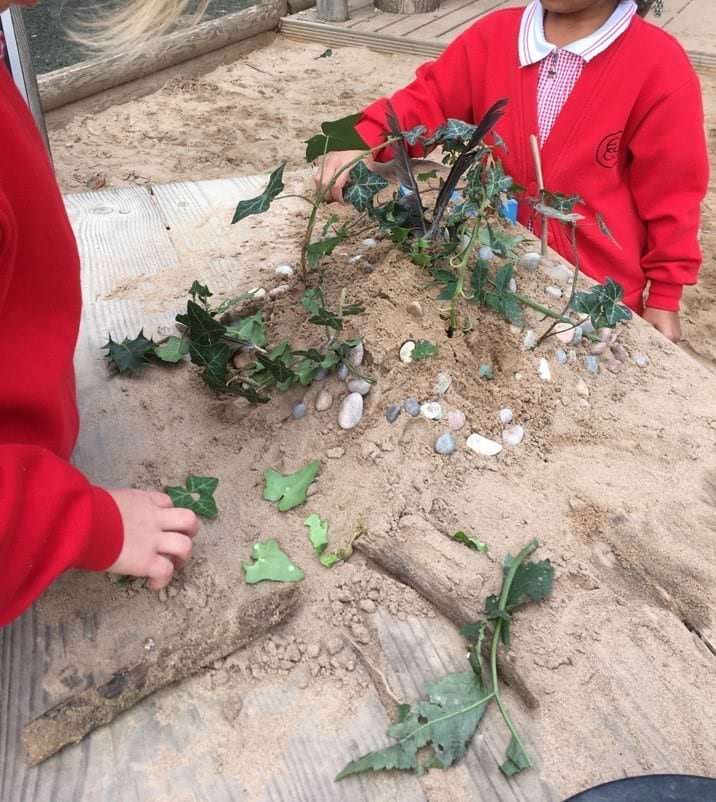 At Esher Church School we recognise that high quality play is important for every child.  Therefore we don't treat playtime simply as a break between learning – we actively consider how the children can learn and explore through play, and how play can support their social and emotional development.
We live in a time when children spend a lot of time playing indoors, often using tablets and games consoles.  Whilst these have an important place in today's world, we believe that it is equally as important that children have opportunities for self directed and creative play.
In our playground we offer a popular trim trail and climbing frame with monkey bars which offers physical challenge for our children.  Recently we installed a new playzone – a fantastic area which contains a bucket swing, sand pit, pulley systems, a friendship zone.  We also have a mud kitchen and den building area alongside our playing field, as well as a pile of reclaimed tyres that the children use for everything from rolling and jumping games to building forts.
In addition we have recently installed a Scrapsotre Playpod.  The Playpod is filled with recycled and reclaimed materials that are safe for the children to play with, such as old fabric, cable reels, cardboard tubes and much more besides.  The children love playing creatively with these items; as well as developing their imaginations, this play encourages teamwork and co-operation.
All of our lunch time supervisors undergo bespoke training to enable the children to make the most of the huge variety of play opportunities on offer.  This training is endorsed by Play England and is mapped to the National Occupational Standard for Playwork.
You can read the school's Play Policy below.